Shopping is my exercise, darlings, said Carrie Bradshaw.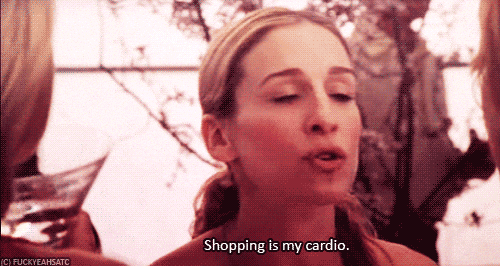 Nowhere is this truer than on the floors upon floors, aisles upon aisles that is the H&M flagship store in South Delhi's Select Citywalk mall.
We'd heard the horror stories of endless queues and people sleeping in bean bags to get into the shop, but being bargain lovers and card carrying shopaholics, a few urban legends weren't going to scare us.
Still, we waited a day after the launch to seek out some shoppurtunities. Only to realise that urban legends are based in fact.
We are only kidding, but just barely, as you can see:
The store is divided into two floors – one dedicated to women's wear and the other separated between children's and men's clothes. Each section is bigger than our apartments (obviously), and takes up the entire floorspace of level two and three at Select Citywalk.
There was even a bouncer, walkie-talkie in hand, letting people into the store as others walked out and made room. H&M might be Swedish, but Delhi is so Delhi, right?
Once inside, we were totally spoilt for choice at H&M.
Many-kins
After filling four shopping bags to the brim with clothes, hats, shoes, dresses, shirts and jeans, we were like:
The real challenge, though, was trying on everything we picked.
Laid out to mirror the H&M stores in London, the Delhi edition has two big trial rooms to check if your purchases are worth taking home, or just good for a one-try-stand.
Thinking ourselves super sneaky, we bypassed the ladies changing room on the first floor and tried our luck at the men's changing room on the second level. We were not smart as we had originally thought. The lines to the fitting area were as long as Heidi Klum's legs. But we entertained ourselves by taking selfies with all the male underwear that surrounded us during the wait.
The changing area itself was spacious and well-lit. Each gallery contained 8 trial cubicles; each cubby with ample space to try on clothes and even do a little sneaky photoshoot.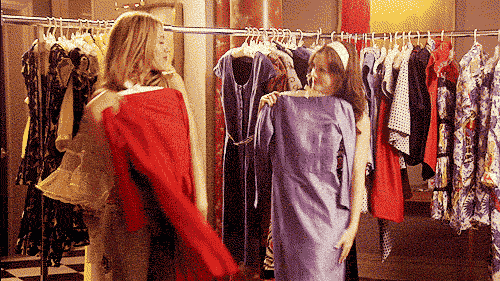 Only seven items of clothing were allowed in at a time and we were not permitted to take accessories into the changing room with us. However, the staff was nice enough to hold on to our choices and hand them to us whenever we asked to try them on with the clothes we were styling.
Here are our H&M picks, how we would wear them.
Cho's choices
Bad to the bone
Abstract stripes
Embellished experience
Bhantika's bag
H&M isn't just happy to be in India, they seem to be banking on the Indian market to be vociferous consumers of their products. The launch and the trial rooms were managed by a lovely French woman Julia, who had come down to India to help manage the high-street-loving desis.
And "Thank god for Julia," as one of the shop attendants told us. "There have been so many people in the last two days; they grab us, they pull us, it feels like there is always ten people after your life," she sighed shifting her weight from one foot to another.
Clearly exhausted, she was still enthusiastic about working for the chain store and was very helpful with our many, many shopping bags that were brimming with everything wearable from dresses to shoes to hats. Because, seriously, if it can be worn, H&M has it in their store.
Bonus: H&M prices were so low and their collection so diverse, we went home like this:
H&M India is located at Select Citywalk Mall in Saket, Delhi. Prices range from Rs. 900 for a tee-shirt to Rs. 5,000 for jackets and jeans. Sweaters are sold at a range between Rs. 3000 to Rs. 8000.
We'll eventually wear to death everything we bought over at the store, but till then: