Books are great. They're like TV in your head. But, there are probably more books in the market than there are websites selling fake Chanel bags. It's alright if picking up something to read seems more difficult than deciding which pair of Chelsea booties will your season favourite this year.
This is why we decided to ask our favourite bookworms a little bit about what hard spine they're cuddling up to these days, and also which readable they find most comforting in the (not-so) cold winter months.
This is what they had to say:

Neha Dhupia, actor, presenter, model:
I'm reading Mindy Kaling's Is Everyone Hanging Out Without Me? It's a great read — easy, funny and intelligent. I love Mindy's TV show so I was super excited about seeing what she's got to say on page. It's also my pick for a book to snuggle up to this winter, because a few chapters in, I thought to myself: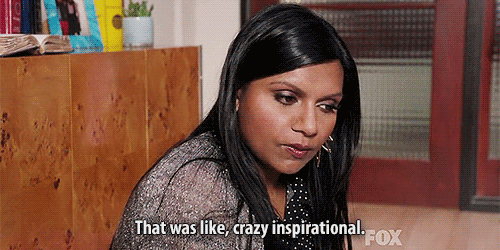 Shilarna Vaze aka Chef Chinu, Co-founder Gaia Gourmet and TV presenter
Right now, I'm reading The Third Plate by Dan Berber. The book talks about how sustainable farm to table chef Dan Berber imagines the future of food to be. I have this habit of reading a few books at a time, so I'm also working through Small is beautiful by E. Schumacher, a legendary economist who turned out to be more of an ecologist.
For winter, I would suggest reading An Omnivore's Dilemma by Michael Pollan. Every omnivore i.e human needs to read this. Just read it, trust me.

Anushree Majumdar, features editor at Indian Express
I'm currently reading Elizabeth is Missing by Emma Healey. It's a mystery novel where the protagonist is an elderly woman battling dementia who is convinced that her friend is missing and sets out to investigate. So far, so atmospheric.
Recently, I also read The Marvels by Brian Selznick and as usual, blown away by his art and his capacity to blend both text and images so seamlessly. I would recommend this book as a must-read for any time of the year, so why not winter?

Kaveree Bamzai, Editor at large at India Today
I have just finished Fiona Barton's The Widow, it is in the same vein as the Girl On A Train and Gone Girl but more grim. It's a portrait of a marrage gone wrong and a look at the secrets families harbour. It's definitely a book that could go with the gloomy winter months, but I would recommend Helen Macdonald's HIs For Hawk. This is a brilliant book about overcoming grief — sad and happy at the same time, which is kind of how I think every Indian feels during winter time (Happy it's not blistering hot, but sad it's so very cold.)

Supriya Nair, Editor Brown Paper Bag, Writer
I am currently reading Les Miserables and wishing Hugo would move things along a bit. For winter, I would suggest Kanishk Tharoor's first book, Swimmer Among The Stars. It's a lovely read and I think many many bookworms will like it.

Deveshe Dutt, Writer,Founding Director, Talent Management at Power To Fly
I've just finished reading How to Be Both by Ali Smith. The book is fiction written in free verse, and talks about themes like time, language, love and art while exploring interconnected perspectives of an Italian fresco artist from the 16th Century and a young English girl in the present. The writing is smart, playful, lyrical and warm. I was skeptical initially and the discombobulated writing in the first couple of chapters didn't help any. But without warning, I was in so deep, I was jumping with glee when people cancelled plans because it meant I didn't have to put my book down.
I am also currently reading Trilium by Jeff Lemire. This is a graphic novel centred around a sci-fi love story featuring two star crossed lovers from different worlds and times. They're fighting to save the world though their coming together might be the cause of it's destruction. Another un-put-down-able. More glee on my part when plans are cancelled. The only reason I still have friends is because I lend them the books after I finish them. I would definitely recommend both as winter reads.

Mahesh Rao,  author of Smoke is Rising and One Billion Stories
I'm currently reading 'Naomi' by Junichiro Tanizaki, a gripping and darkly comic 1924 novel of sexual obsession, threaded through with Japanese anxieties about 'Westernisation'.
In terms of winter reading, there appear to be two camps: those who read about sweltering days and balmy nights to escape the weather outside, and those who prefer bleak and windswept settings. I fall into the latter group, so I would recommend 'Ethan Frome' by Edith Wharton. It's a beautifully controlled novel set in the austere, wintry New England hills, brittle with the tension of thwarted passion and tragedy. Also, crucially, it's very short.
Pyjama side note: On behalf of Mahesh, may we just say: you could also pick up his books, both of which are getting FAB reviews across the board.

Simrit Maali aka Maaliwali, CEO of S.E.E.D 
I'm reading Colin Wilson's Criminal History of the world. I think it's a good one for winter. It spans everything from Ancient Rome to Genghis Khan and I'm loving it.

Revati Laul, editor, journalist and documentary film maker
I'm reading many books together because I am a total book slut, flighty, shifty and unfaithful as they come. But, of all that i'm currently reading I recommend Elena Ferrante's Neapolitan series the most. It's best for a winter afternoon with hot chocolate and even better if there's no sun.

Malika Singh, Executive Producer with Fox Star Studios
Currently I'm reading Galapagos by Kurt Vonnegut. I'd definitely recommend it, but I would say the same for any Vonnegut novel out there. He's awesome. As far as winter is concerned, I don't know, December/ January make me feel pretty grim, so I usually pick books to soul scowl with. Anything by Charles Bukowski, or I'd look within and read How Should A Person Be by Sheila Heiti.

Avantika Mehta aka Bhantika-Pyjama
I'm reading two books right now: A Case Of Exploding Mangoes by Mohammed Hanif and also The Thing Around My Neck by Chimamanda Ngozi Adichie. Hanif's novel is a suspense thriller set around the death of Pakistani dictator  General Muhammad Zia ul-Haq, Adichie's book is a collection of short stories featuring (thus far) only Nigerian women as protagonists.
The books are interesting compliments to one another, because they, and their authors, are very different from each other. Hanif is fast-paced, witty, but very masculine in his portrayal of several characters including General Zia's wife. Meanwhile, reading an Adichie is like be showered with instant validation for all the strange thoughts that swim around my head as I manoeuvre my way through the world as a girl. I think both are great winter reads, mostly because they've taken up all of the season for me  (I take forever to finish a book.)
So, guys, after going through this epic and diverse list of readables, are y'all like:
We hope so, because: