Zara is on sale! And we're like: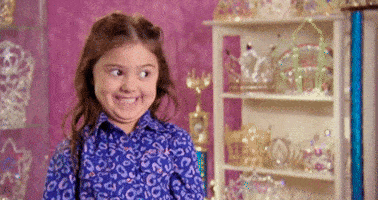 But, if you, like us, are not into feeling like sardines in a box, you're probably skipping the mall version and heading straight for the online shopping fast lane. Smart girl: narrow down your choices now and you'll spend minimal time in the store because you already know what you want.
To help you, we've rounded up all the beautiful things in one easy to scroll through post for your shopping convenience. Why? Because, just like you, we're a bunch of lazy shopaholics. 🙂
The bestest dresses
1.  Neutral colours, stripes, shift dress: heaven!
2. Frayed tier dress
3. White midi-dress with bonus off-shoulder gorgeousness
This is a summer 2016 must have
4. Knotted white dress
In case off-shoulder isn't your thing, this a fabulous alternative
5. Aztec prints blue tunic dress
6. Striped monochrome throw-on dress
7. Sexy ruffled shoulder detail denim dress
8. Classic denim front-button dress
9. Quirky pink asymmetrical dress
10. Boat-necked denim shift dress
11. Organic cotton plaid dress
12. Black and white lace slip dress
sexy on a dress if there was ever such a thing.
13. The soft pink slip dress
The dress is blushing, it's that sexy
14. The floral print midi dress
#ProTip: Fall 2016 is all about BIG floral prints. Get a head start on your winter shopping like the smart cookie you are.
15.  Relaxed checked dress
For when you want to go on a picnic but can't, so you decide to be the picnic.
Jumpsuits
(because we've come to love rather than hate the tedious undressing every time we need to pee!)
16. The short suit:
Aztec print, rich colours = pure love
17. Linen and lace detail suit
Giving summer whites a good name.
18. Printed jumpsuit
Fun prints to take you back to your childhood over here.
19. Factory issue jumpsuit
Because, it is actually Grey that is the new black.
20. This cute bow detail jumpsuit
Feel like a present? This cute piece is perfect for you
Tops, blouses, shirts
21. Poplin off shoulder detail shirt
22. Lace detail blouse
Perfect for work
23. Asymmetrical shirt
Pants

!
24.Crepe striped pants
25. The perfect cropped bell bottoms.
Full on #Swag
26. The ultimate pyjama pants
Trust us, pants that are this chilled come with their personal yoga mantras 😉 Plus, they're coming back in style next year so you may as well get a head start on your 2017 wardrobe.
27. Beige linen pants
Work wear classic, this one. You can never have enough neutrals and shades of tan, we say.
28. White pants
Chilled to the max
Jeans and shorts
29. Cropped denim, frayed edges
30. Comfy-AF denim culottes
31. Denim bermuda shorts
What's a summer without these, eh?
32. Raw hem white pants
Summer white meets summer fringe meets our undying love
Beachwear
33. Tie Dye Bikini
To transport us back to our favourite era: the 1960s!
34. Fringe beach bag
A perfectly cute beach bag ain't easy to find. This one is a gem and a half.
35. The white one-piece swim suit
A sexy one piece is the new sexy black bikini, don't you agree?
SHOES

!!!
36. The perfect slides
Weeee!
37. Boot sandals
For those of you who aren't ready to give up the booties yet (speaking to you, Sohaya!) Compromise?
38. Orange Mules
A bright mule will brighten up the dreariest day
39. Side-open black flats
For work mode, but also a cute way to contrast a girly-whirly dress.
40. Pom-pom detail sandals
Who needs friends when shoes come equipped with pom-poms to cheer you on?
41. Silver sneaks
Sneakers for the win
42. White scrappy sandal
Versatile, simple, chic: just the way we like it.
Bags

!!
43. Buckle detail bucket bag
This bag should definitely be on your bucket list
44. XL tote
Totes perfect for every day wear!
45. Colour blocked city bag with cute strap details
To add a little fancy to a simple outfit.
46. Pink clutch
Powder room perfection.
Guess, the only thing left to so is: GET SHOPPING!